Path To Shine® is a mentoring and tutoring program for elementary-school children in Georgia. Our purpose is to provide the academic and social support to encourage children to thrive in school and build self-confidence to achieve their dreams. PTS's success stems from its our principles to maintain a ratio of no more than one Mentor to two students, have a flexible structure that adapts to each local community, and seek collaboration with other organizations.
Our Director

Our director, Deacon Lesley-Ann Drake, began working full-time with Path To Shine in January 2011. Ordained a permanent deacon in the Episcopal Church in 2011, Lesley-Ann is currently assigned to St. Patrick's in Dunwoody. MORE >
A typical day at Path To Shine
Children and adults start each session by placing a sticker next to their name as a way to keep attendance. Then the same Mentor works with the same one or two students each week helping with homework and reading together. READ MORE...
News and Updates
Be sure to check out our March 2020 newsletter. We also have an archive of past newsletters. You can view them here.
---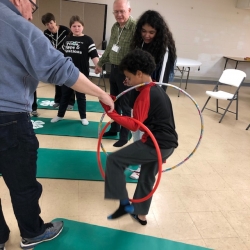 Path To Shine- Kennesaw had a special visitor from 4-H last week. Kathleen dropped by and did a few yoga exercises with our children. They loved it, of course. It looks like our Mentors did too. READ MORE...
---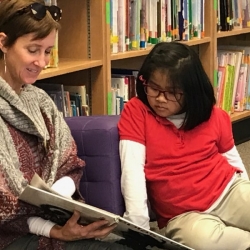 Like most elementary-school children in Georgia, the children of Path To Shine® have been greatly impacted by school closures as a result of pandemic. In an effort to maintain mentoring relationships, our Mentors have chosen to lean into school closures rather than enduring them by reading aloud to their students.  READ MORE...